Audit (Accounting Firms)
Accounting firms are under increased pressure to provide more client value from the audit process, while also decreasing costs.

Caseware's audit solution provides a streamlined approach for managing and conducting audits without affecting quality, with content provided by major accounting bodies. When combined with Working Papers, Caseware Audit can significantly enhance the effectiveness of your assurance, analysis and reporting engagements.

Whether you are a small accounting firm or a global player, Caseware Audit provides the tools you need to be successful. You can use our Audit Optimiser to design effective audit programs that fit your needs and the complexity of the assignment. You can also integrate your firm standards so that all the work conducted by your firm aligns with internal requirements in addition to external ones.
Key Benefits

Audit Trail
Collect all engagement documents and support materials in a single location making it easy to show your audit trail.

Effective Collaboration
Allow team members to collaborate effectively on an engagement file in real time even when in different locations.

Audit Visualization
See your audit engagement's big picture including work remaining using Caseware's visualization tool, Constellation.

Smarter Audit
Tailor each audit to your needs and leverage workflow dashboards to review work completed, and identify audit gaps and inefficiencies.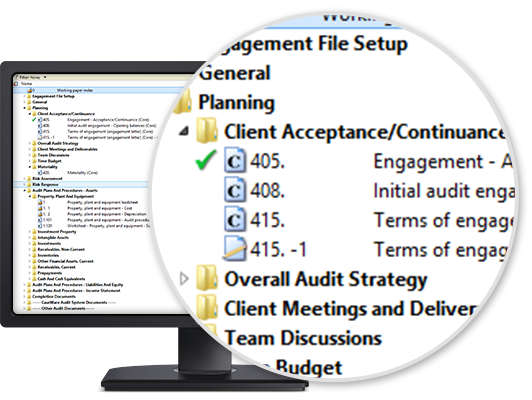 Collaborate in Real Time
Audit engagements can get complicated and time consuming, particularly when you have to manage different people working on different files to ensure continuity and consistency.

With Caseware Audit, your team can work in real-time on the same client file from different locations without worrying about checking out documents. Caseware's SmartSync technology works in the background to make sure all data is up to date across all users, eliminating administration time. When your team collaborates in real time, they become more efficient – and so does your engagement execution.
Make Smarter Audit Decisions
Conducting a successful audit requires a balance of depth and efficiency.

Caseware Audit provides a range of tools and templates that can make your audit more efficient. Workflow dashboards provide visibility into engagement activities so that you can quickly identify inefficiencies and gaps and make adjustments to your plan. This can help keep your audit team activities streamlined and outcomes focused without over auditing your clients.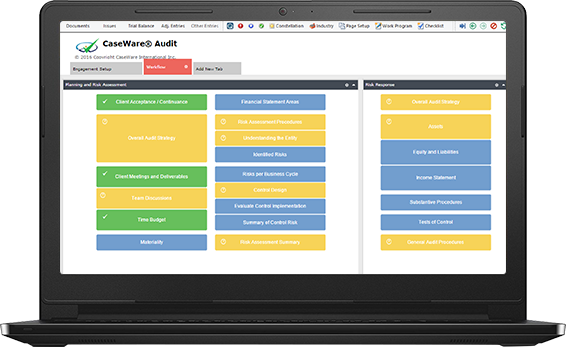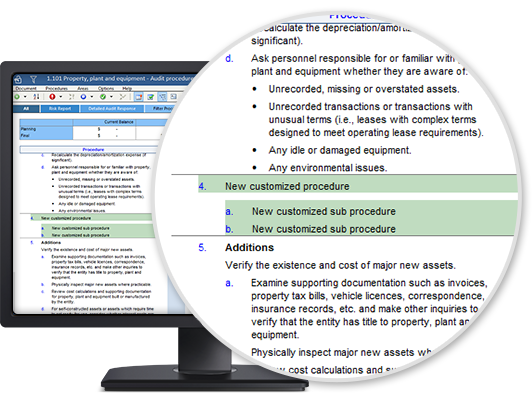 Design the Most Effective Audit
Large accounting firms typically have a specific audit methodology they use to conduct audits, while smaller firms may appreciate standardized processes to simplify their work and ensure consistency across engagements.

Caseware Audit provides significant flexibility for audit design.

Larger firms can integrate their established audit processes into Caseware Audit to ensure that their firm standards are met in addition to any external requirements. At the same time, audit firms can also choose to use or adjust pre-existing Audit templates.
Visualization: Getting the Big Picture
Constellation provides a big picture view of your audit engagement so you can better direct your engagement activities. It takes all data points in your audit engagement that might be otherwise difficult to tie together and graphically demonstrates how the items are tied together. This allows the viewer to see where more work is required in order to complete the engagement.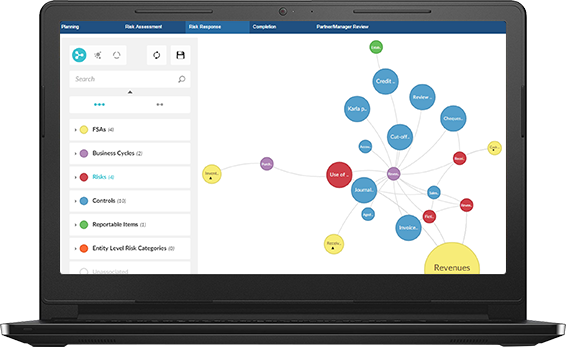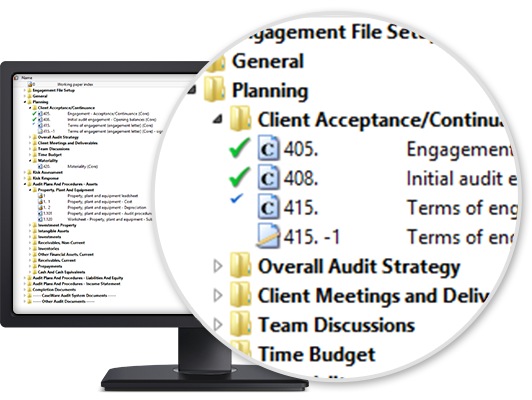 Complete Audit Trail
Caseware Audit provides a complete digital audit trail, with easy access to files, support materials and everything you need in order to complete an engagement. With everything connected, finding information when you need it is a simple search away.