Working Papers
Caseware Working Papers is flexible engagement management software that integrates everything you need to conduct assurance and reporting engagements.
It provides a one-stop location for your data – which allows for real time collaboration, direct scanning, online review, efficient clean-up, sophisticated lock-down and advanced roll-forward. Access to all the information you need during an engagement is readily available, with data linked so that any changes you make flow through to all related documents.
Key Benefits

Easy Collaboration
Leverage SmartSync™ technology so that different team members can collaborate in real time on the same working paper file.

Seamless Importing and Exporting
Import trial balance or general ledger details from over 60 accounting packages, Excel and ASCII, and export to tax packages and document management systems.

Intelligent Reporting
Use CaseView to build intelligent documents, including financial statements, reports and work programs based on your project needs.

Integrated Oversight and Approvals
Create, assign, and track issues and review notes, monitor to-do lists, and easily manage review and approval of completed activities using up to 8 sign-offs.

Straightforward Document Management
Link source documents and materials to reported information to provide easy and transparent reference and support documentation.

Roll Forward Files
Gain efficiency by leveraging Working Papers' roll-forward capability which takes your existing file and rolls forward identified information to the next year.
Working Papers
With powerful document management, real-time collaboration, direct scanning, online review, efficient clean-up, sophisticated lockdown and advanced roll-forward, Working Papers lets you work smarter and faster than ever before.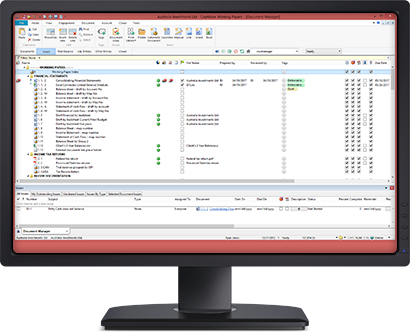 Connector
Connector is a Microsoft add-on for Working Papers that enables you to automatically synchronize your trial balance data to your Microsoft Word or Excel templates.
Link information from the client profile, accounts, mappings, leadsheets, groupings, user defined information, document information, tax export code and more.
SmartSync™
Caseware SmartSync technology takes collaboration to the next level by providing everyone on your team with up-to-date changes to working papers without the need to manage synchronization. Team members can work on local copies of a client file in real-time, with each file synced automatically in the background.
With SmartSync, you can reduce project down time; momentum is never lost by the need to wait for someone to return or pass on a file. If you are offline, your changes will be updated the next time you connect to the network. Collaboration is easy and seamless – just like it should be.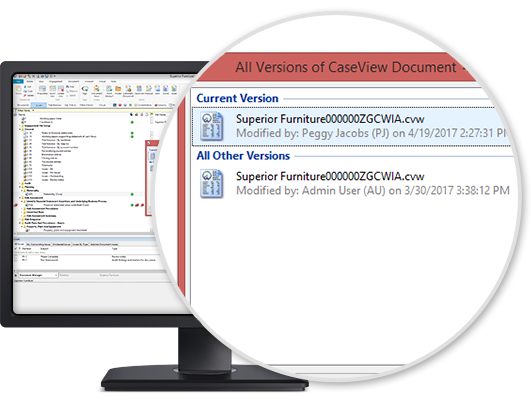 Frequently Asked Questions
If you can't find an answer contact us with your question.
A revolutionary tool that takes any type of document or working paper, including client ready financial statements, to top-notch publishing quality. CaseView incorporates real-time linkages to any account properties and amounts in Working Papers. CaseView's "smart technology" supports full object-oriented decision logic to automate formatting, rounding, diagnostics, account amounts, text, account balances, information from another CaseView document, and even financial statement notes.
What is Caseware Audit International Template?
What is Caseware Financials?