Practice Management (Accounting Firms)
Engagement quality, profitability, and deadlines – accounting firms need to monitor every aspect of their practice to ensure teams are working efficiently to provide clients the value they demand.
Manage your practice more effectively while simplifying a number of administrative tasks so teams can focus more on client-facing activities. By putting smarter reporting tools into the hands of managers, they can quickly understand engagement profitability, progress, and identified issues. This leaves more time for what matters most: your clients.
Key Benefits

Timely Decision-making
Access engagement information (e.g. staff profitability, deliverables, budget utilization) from anywhere so you can make timely decisions.

Accurate Timekeeping
Reduce administration overhead through automating draft timesheet creation based on calendar entries and time in specific engagement files.

Integrated Client Management
Simplify client relationship management by integrating all aspects of the client relationship within a single solution rather than managing standalone systems.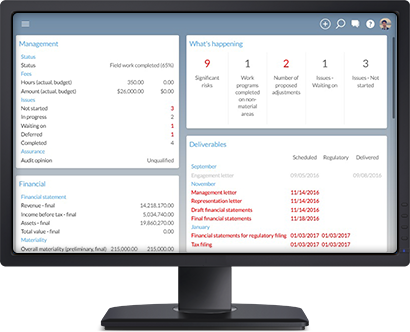 Transparent Engagement Information Anytime, Anywhere
Provide your teams with dashboards for real-time engagement information; accessible from mobile devices or standard internet browsers. From reviewing job profitability, to determining if engagements are on time and on budget – your teams will know the current status of their engagements and can make adjustments where necessary to ensure all tasks are accounted for.
More Accurate Data on Profitability
Automated engagement time-tracking leads to accurate job profitability information, while also reducing entry errors and time spent on timesheet administration. Our tool tracks staff time spent working in the system and populates the relevant timesheet fields accordingly. As a result, you can rely on our profitability reports to make valid business decisions.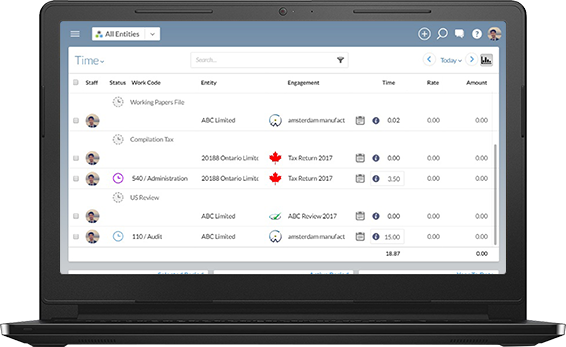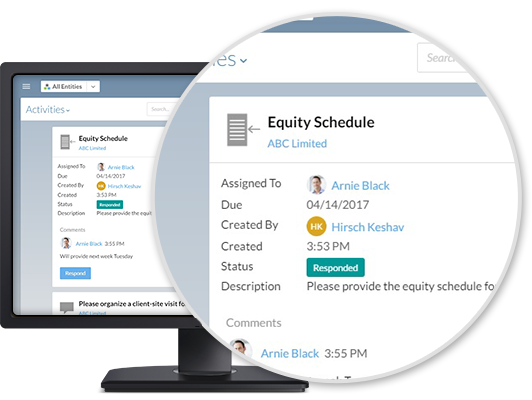 A Single System for Working with Clients
Client Relationship Management tools are powerful, but when they aren't linked to project management systems, there is often a high degree of variability between the information in each system, leading to inefficiencies.
Caseware's Practice Management solution includes a built-in client management system so you are updated as to your client's most recent profile information. From billing your clients, to sending them file requests, this system allows you to easily work with all aspects of your relationship with your clients.
Practice Management Products