Cloud (Accounting Firms)
Servicing your clients means being available to them regardless of location. For organizations with a significantly mobile workforce, the cloud is a platform that increases productivity and empowers collaboration. It allows your teams to work from anywhere, at any time.
With seamless integration between our desktop and cloud platforms, many of Caseware's solutions are fully cloud compatible. Whether you are working on a client file, reviewing engagement metrics, or managing your practice, our solutions allow you and your teams to work in real-time and collaborate with each other whether you are together at the office or onsite with a client.
Key Benefits

Secured Data
Organize your data in a centralized file management system, protected with the same level of encryption as major banks.

Manage Your Practice
Real-time insight on clients, staff and engagements for proactive decision making to drive practice profitability.

Engagement Monitoring
Monitor engagement progress via shared dashboards to ensure issues are flagged and responsibilities are met per schedule

Automatic Time-Tracking
Track and report actual time spent in engagements to reduce administration overhead and accurately gauge staff efficiency.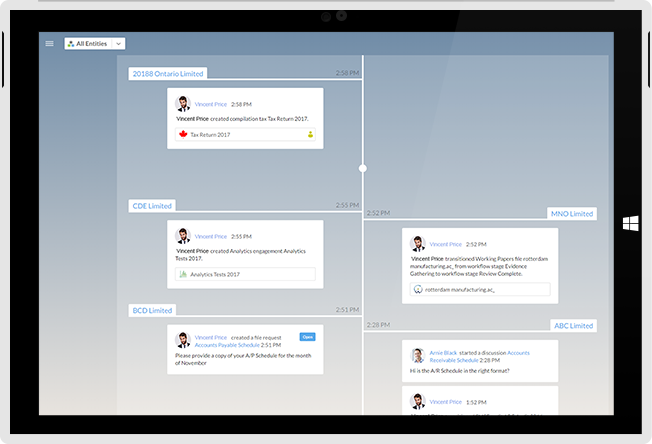 Always Connected To Your Clients and Their Data
To be productive, you need to be connected.
Caseware Cloud creates transparency between your staff and clients, enabling them to communicate, assign tasks and request documents through a shared online portal.
Centralized, Real-time Engagement Information
With different staff members working on engagements independently – continuity, consistency, and version control become big challenges. Client engagement files are maintained in one centralized location that is readily accessible by all team members. Our dashboards allow you to monitor all of your engagements in one place so that you are aware of each file's status at any given time.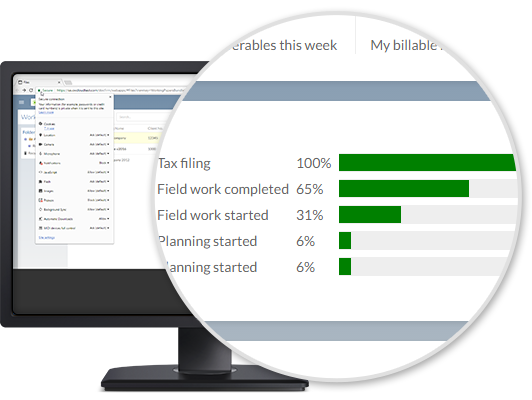 Keep Your Practice On Track
Travel shouldn't limit your ability to manage your practice or your team.
Caseware Cloud's easy-to-use practice management solution lets you track time, bill clients and conduct analysis on key business metrics from any web-capable device. Dashboards display real-time information providing you with insight into your practice to make better business decisions.
Be Confident Your Data is Secure
By employing the same level of encryption as major banks and financial institutions, Caseware Cloud provides you with the confidence to assure your clients their data is safe with you. Our centralized cloud solution also reduces the potential for information to be lost or stolen, as documents do not need to be transferred – whether in paper files, sent through email or carried on a memory key.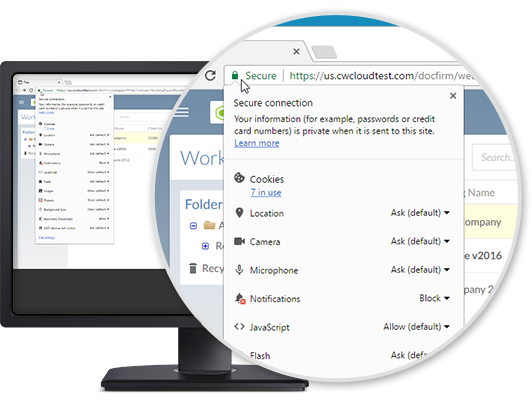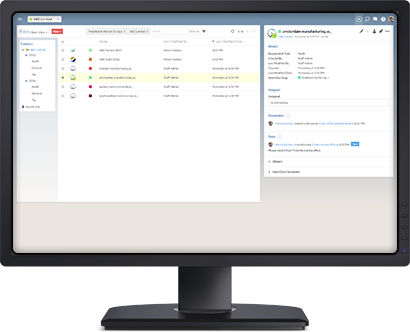 Simplify Storage
It can be challenging to manage the storage of audit engagement files and documents, particularly when they originate from multiple sources. With Caseware Cloud, you can store all your client files and documents in one central location, eliminating the need to maintain your own internal network storage and reducing the chance of misplacing files.
Automatic Time-Tracking
Many accounting firms spend more time on administration than needed, particularly when managing the complexities that ensue from working across a variety of independent systems.
Caseware Cloud's automatic time-tracking significantly reduces your staff administration time and gives you invaluable insight on engagement profitability that was previously unachievable.